I'm still working like mad trying to get caught up. I finished quilting three beautiful quilts for Susie. Unfortunately, I only got pictures of two of them.
This one is called Japanese Flower Garden. Didn't her piano key border turn out pretty? Her fabrics don't show up in the picture, but they are gorgeous!
This one doesn't have a name, but it is a nice snowball quilt done using a lot of Kaffe Fasset fabrics. The fabrics are more vibrant in person.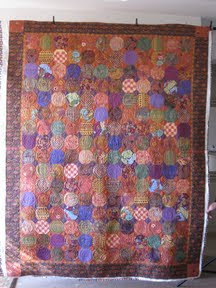 I didn't get a picture of the third one. It was a pattern from Ami Simms.
Right now I'm working on Twinkle Stars. I've entered it in the MQS show, and they have to have it by May 4th. I've finished the most time consuming part of the quilting, but I still have lots to keep me busy tomorrow. It looks like I'll be paying a bundle for overnight shipping.
- Posted using BlogPress from my iPad