Mountain Top Quilt Guild had a fun day last Tuesday. It was fun! The committee had purchased the color coordinated fabric, and they had precut the 10" squares and border pieces.
In addition to the precutting, the ladies did all our pressing during the day. We just had to wave our pieces in the air and call, " Presser!" someone would come running and soon a neatly pressed piece would be returned to us. Needless to say, things went much faster than they would have at home.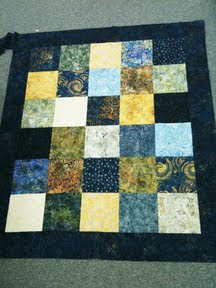 This is what I had finished by the time we ate our yummy potluck lunch. After lunch we used a special ruler by Country Schoolhouse Designs.
Then we sewed it back together and got this.
I need to put some finishing borders on it before I'll consider it finished. It was a wonderful day. It's been quite awhile since I've been able to sit and piece. I hope they have a Fun Day next year.
- Posted using BlogPress from my iPad