Well,I thought that I had uploaded posts while I was attending MQS. However, when I checked up on things I found that they never posted. They also didn't get saved.
Here are a couple of pictures of Twinkle Stars from the show. I forgot to take my camera down to the show, so these were taken with my phone. Hence, the poor picture quality.
There were no ribbons, as I predicted. The background quilting is too similar in texture to the quilting in the stars. So, instead of setting the stars off, it competes with the stars.
I wasn't completely embarrassed by my work, but I could see how I just didn't measure up to the ribbon winners.
These are some detail pictures of a couple of the winning quilts.
This one was quilted by Marilyn Badger. Her detail is amazing!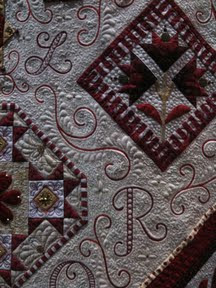 This was the blue ribbon winner in the wall quilts category. "Red Letter Daze" by Janet Stone.
l an epiphany while looking at all the quilts. I realized that I just don't want to quilt at the custom ribbon winner's level. If I enter more big shows I'll enter into the everyday quilt or bread and butter category. All this time I thought that I had to quilt at that level to be "good." I finally realize I can be a good quilter without reaching that level of detail. Took me long enough, huh? Sometimes I'm just a bit dense.
- Posted using BlogPress from my iPad